Welcome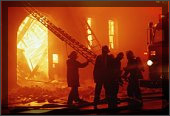 Welcome to the website of the Karnes City Volunteer Fire Departments! Visitors can find information covering our members, equipment, training, alarms, how to join, and much more.
The history section contains details of the rich history and growth of our department, accompanied statistics from previous years. Visitors can also find information on our members, like their name, date joined, years of service, and occupation. We also have a list of our past Fire Chiefs and Fire Marshals, Honorary Firefighters, Mascots, and a Memorial honoring the fallen firefighters of our department. The motto of the KCVFD has always been "Protection," and we have a top ten all time attendance list that represents how important "Protection" is to our department.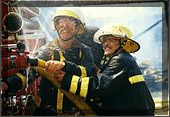 Our recruiting page has information about joining the department, for example, how to apply and attendance requirements. In this section you can also find pertinent information, such as copies of our Standard Operation Procedures, Constitution, By-Laws, and our contact information.
The Karnes City Volunteer Fire Department is a member of the Guadalupe Firefighter's and Fire Marshals' Association, Inc. (GFFMA). The GFFMA was founded in 1937. Original member counties included: Aransas, Bastrop, Bee, Bexar, Caldwell, Calhoun, Colorado, Comal, Dewitt, Fayette, Goliad, Gonzales, Guadalupe, Hayes, Jackson, Karnes, Lavaca, Refugio, Victoria, Wharton, Wilson, and the City of Comfort.
Top Firefighters 2023
Firefighter
Attendance
Charles Malik
178
98%
Monica Quintanilla
174
96%
Christopher Bergeron
150
82%
Jesse Morin
144
79%
Morris Brown Jr
132
73%
Jaron Denson
113
62%
Bobby Jones
109
60%
Roman Garcia
92
51%
Jordan Buehring
88
48%
Danny Denson
88
48%